What is this Randos thing?
Randos in the cycling world is short for a group who participates in Randonneuring.
Randonneuring is long-distance unsupported endurance cycling. This style of riding is non-competitive in nature, and self-sufficiency is paramount. When riders participate in randonneuring events, they are part of a long tradition that goes back to the beginning of the sport of cycling in France and Italy. Friendly camaraderie, not competition, is the hallmark of randonneuring.
Scheduled rides typically range from 200K to 600K (125 to 373 miles), with a few longer distance rides of 1000K and 1200K (621 and 746 miles) available.
Some might consider voluntarily embarking on such an activity as a little crazy. On the other hand, there are those of us who are crazy enough to genuinely enjoy the adventure and to see how far we can ride.
Randy Anderson, an IVW member since 2014, is also a member of Randonneurs USA (RUSA). In 2016, his first year with RUSA, he did a 200K and a couple of 300K rides. He is looking for other IVW members who are interested in joining him locally for training rides or out of town for the longer scheduled rides. Maybe you have done a few century rides and are interested in seeing if you can go further. The key differences between community organized century rides and RUSA rides are the longer distance, control time limits (at least 9.25 mph including stops), you are responsible for your own food (gas stations, fast food), and you make your own repairs (no SAG support).
If you are interested, please contact Randy through this email form.
FAQ and Rules
RUSA has provided the following pages to help introduce newcomers to the sport.
Membership and Costs
If you would like to join Randy on these rides, then it is suggested (although not required) that you also join RUSA ($25 per person / $40 per household). You will then be eligible to receive event, yearly, and lifetime awards. Members also receive a member handbook, quarterly magazine written by and for the members, and access to the RUSA online store. Please refer to the member services page for more details.
Ride fees are very reasonable, ranging from $0 to $10 depending on the ride. You purchase your own food at gas stations and fast food restaurants along the route (usually at control check points). Your largest expense will be travel and hotel costs (if staying the night before or after the ride), although these can be shared if there is a group traveling together.
Rides near Peoria in 2017
The Excel sheet below contains a listing of RUSA brevets that are within a few hours' drive of Peoria, IL. These were all obtained from the RUSA ride search page and are subject to change. Please contact Randy if you interested in joining him on one or more of these brevets.
Randy has created a 101K (63 mile) permanent populaire route on the north side of Peoria for training purposes (counts towards RUSA distance awards). If you are a current RUSA member (see permanent rules article 2) then you are welcome to contact Randy as the route owner if you would like to ride it on your own or with him. The RUSA route name is Northern Peoria County 101K and you can follow the link for additional details.
RUSA brevets near Peoria IL – 2017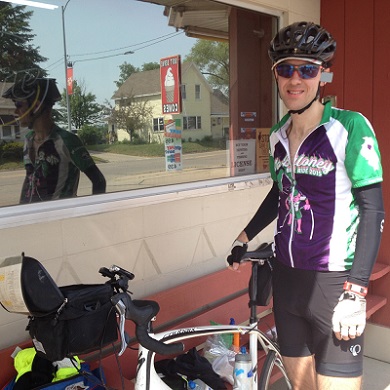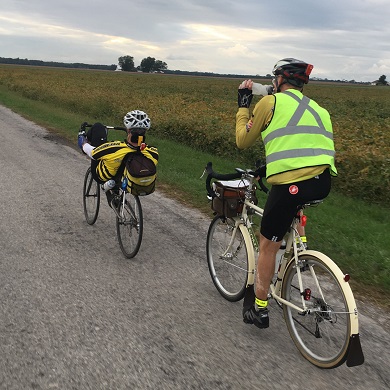 | | |
| --- | --- |
| Randy at a control on his first brevet | Riding at sunset with two other randos on a 300K |