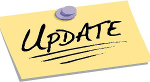 Title: Quadruple Delight
Leader(s): Jim King
Location: Lacon Marina
Start Time: 8:30am
Date: July 31 (Monday)
Typical Distance: 30 miles
Ride Level: Level 1
Ride cancellation via: RSVP expected to Barb (692-1201, bdrake@mtco.com)
Ride Notes: This is the very kind of not-your-ordinary ride that defines "Out of the Box": A 30-mile ride out of Lacon. Breakfast/lunch at Suds in Toluca, where we'll also take the opportunity to hike to the top of the infamous 73-year-old slag pile the town council has declared is "part of the heritage of Toluca to be preserved and protected." If all this leaves you hungry and tired, there will be ice cream in Lacon when it's over. The ride leaves at 8:30 from the Lacon Marina. Please let Barb Drake know if you can make it (bdrake@mtco.com) so she can give the restaurant a head's up.
Posted in
Uncategorized
Comments Off

on 7/31 Out of The Box Ride Details Posted