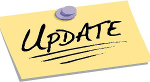 Ride Notification, June 30, 2016
Everyone,
WEATHER PERMITTING, there will be an IVW Thursday morning group ride on Thursday, June 30, 2016. NOTE THAT THE STARTING TIME HAS BEEN MOVED UP due to the forecast hot temperatures and potential higher humidity.
Here are the ride details:
Route Planner/Guide: Tom Dorigatti
Starting Location: Pekin VFW Corner of 14th street and VFW Road, Pekin, IL
NOTE: VFW Road is closed from the Wal-Mart side (Towerline Rd).
So, you can come South on 14th Street to VFW Road, and you will see the VFW parking lot on the SW corner of the new intersection.
–Coming Via Rte 29: Watch for the Detour sign. You can turn Left on Hanna Rd (just past the A&W), proceed down Hanna Road to 5th Street. Turn right on 5th Street, then take a left on VFW Road. That new section of VFW road is open.
If you miss the turn off of Hanna Rd and go straight, it will take you to 14th Street. Turn Right on 14th Street and go to VFW road and take a right, then a left into the VFW Parking Lot.
Start Time: 8:00 AM. Please be ready to ride at 8AM
Starting Date: June 30, 2016
Planned Distance: 30-40 miles depending upon temperature and humidity.
Ride Level: Level II. This is a no drop group ride. We will regroup frequently and nobody will be left behind. Average speed should be 12-14 mph, depending upon wind conditions.
Planner/Guide Phone: Home: (309)347-2844
Planner/Guide E-Mail: dorigat@comcast.net
Ride cancellation via: If the ride is cancelled, Tom Dorigatti will handle the cancellation. Notification will be via e-mail to those on the e-mail listing. There is no way to get cancellation notice onto the web-site fast enough. Tom will try to get ride cancellation out by 6:30AM on Thursday morning. If things are really not looking good, I'll send a notice on Wednesday evening.
Ride Notes:
Route will depend upon wind direction. Plans are to have a Casey's stop during the ride and lunch at Pfeiffer's in S. Pekin near the end of the ride. Pfeiffer's is about 4 miles from the end of the ride.