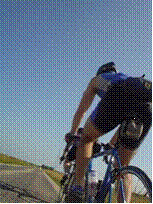 Mark your calendars NOW and put in your vacation request TODAY to attend one of our 2015 events!
We recommend you register as early as possible in order to:
Plan around the dates of the event and avoid unexpected work/family conflicts.
Be assured a spot when we reach our registration limits.
Have a set motivating fitness goal to work toward and train for.
Convince your friends and riding partners to participate with you.
Make sure that you and your bike will be able to physically complete the tour.
Sign up for potentially limited extra services and merchandise, such as supported hotels, massage therapy, and Bicycle Illinois jerseys.
If you have any questions or need any additional information, please do not hesitate to contact us!
BICYCLE ILLINOIS – July 4th – 11th
Starting from the town of Cairo at Illinois' southernmost tip and ending in the heart of downtown Chicago, Bicycle Illinois is the only cycling event across the entire state of Illinois! The fully supported ride covers 500 to 600 miles with nightly stops in Cairo, Carbondale, Centralia, Effingham, Champaign, and Kankakee. A century option is also available every day of the ride!
TRI-STATE TOUR – Sat. July 11th and Sun. August 9th
The Tri-State Tour travels through three states in one day! You'll start the ride right over the Illinois/Indiana border in Hammond, IN and finish in Kenosha, WI, travelling up Lake Michigan through Illinois. The single day event covers approximately 85 miles and a century option is available as well.
RIDE ACROSS ILLINOIS (RAIL) NORTH – Sat. June 20th
Push the limits of your endurance by riding 175 miles across the entire state of Illinois from Moline to Chicago in one day!
RIDE ACROSS ILLINOIS (RAIL) SOUTH – Sat. June 27th
Push the limits of your endurance by riding 165 miles across the entire state of Illinois from St. Louis, MO to Vincennes, IN in one day!
RAGBRAI® TRANSPORTATION – July 19th and July 26th
We will be offering transportation for you, your bicycle, and your baggage from downtown Chicago to the start of RAGBRAI and also from the end of RAGBRAI back to downtown Chicago.
Robert S. Layton, Director
Bicycle Illinois
P.O. Box 8454
Chicago, IL 60680
(877) TOUR-ILL
http://www.bicycleillinois.com/